Long legged bear
by Tracey
(Staffordshire, England)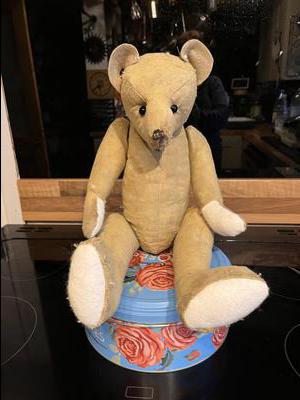 I bought this bear flat except for his head. The head is wood wool filled. I have photographed remnants of the mohair in one picture otherwise he is bald. He had no ears so currently has temporary felt ears pinned for an indication of what he may look like while I source a similar mohair. His eyes were missing so I have added black boot button.


He is 19" overall with legs and arms measuring 8".
There is no distinguishing marks etc. and I really cannot work out what make of bear this is. I have not touched the nose and remnants of a mouth are fairly low on the muzzle. He has clearly been well loved or left somewhere. There are many threadbare areas which I have delicately repaired.
The arms are quite thin and tapered.
The head was already attached to the body in the position you can see. This does not appear to have been moved but is quite far forward onto the front body, creating a very distinctive hump back, made more exaggerated by the lack of fur.
If anyone can help to identify him I would be really grateful and I will leave making his ears and applying claws until I get further guidance.
Many thanks