Looking for any clues for this old chap!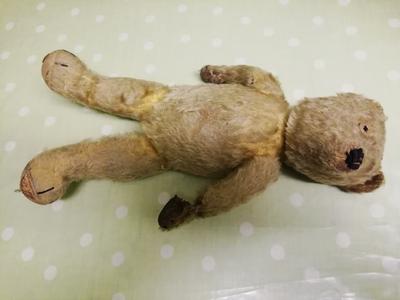 Old Teddy Bear
I recently bought this bear in a job lot box at an auction, I spotted him at the bottom of a box! I have no further history on him and was among items that have no clues as to his provinance. He is in a poor condition, but lovely and has been well loved through his life!


He is filled with straw and has the remnants of a velvet on all his paws. He has jointed limbs and his head is jointed too. He has a growler inside that is located at the top of his body (this isn't working but you can feel it move when he's tipped up) He has a hump on the top of his back, that seems to fit to the back of his head. I don't know what his fur is but it doesn't feel synthetic. His nose stitching looks original but he has one button eye that I'm guessing has been added later and just stitching for the other, which is possibly left from a previous button addition too. I am really looking to try and establish his approximate age of him if you may be able to help? I am also considering trying to put him back together a bit, but if he is very old I'm unsure if this would be the best thing to do or not? If I can date him it would really help in sympathetic restoration or just leaving him as he is? Thank you in advance for any help or any light you may be able to shed on his age.
Join in and write your own page! It's easy to do. How? Simply click here to return to I.D Your Bear.
If you enjoyed this page, please consider sharing
 it with your friends: