Looking for information about my old bear
by Louise
(Slough)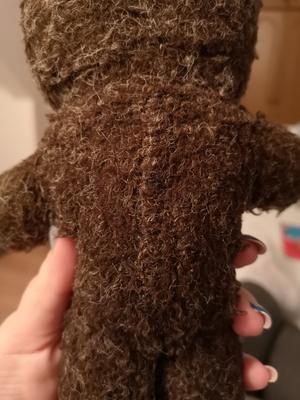 Brown and white teddy bear back view
This is my childhood teddy bear - I have had him for my whole life. In fact, he is older than me as my Mum was given him for me while she was pregnant. I was born in May 1985, so she would have received him in late 1984 or early 1985.


He's definitely more on the firm side of soft, and if I give him a squeeze, he sounds a little 'crunchy'. I've included a picture as he is now, and a picture from approx 1987, he was much fluffier and had a red ribbon around his neck which is long gone! He is around 9 inches tall and has a seam down his back which appears to be sewn with a plasticky thread. There's a couple of small bits sewn with black thread on the back seam too but no idea if that's from a repair job or not!
He has been well loved and is definitely flatter than when he was first made as I used to use him as a pillow! I don't think he is worth much (and I'm not planning on selling him anyway) but to me he is priceless and I'd love to find out more about him.