Lovely old, jointed, excelsior stuffed bear
by Helen Brienza
(Leicester, UK)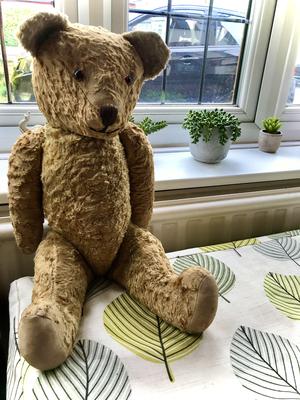 Lovely old, jointed, excelsior stuffed bear
I bought this bear today at an antiques centre in Leicester. He was £56.00 and was labelled as an "antique bear".


He's a little thread bear in places but actually in quite good condition. My knowledge of bears is extremely limited but I believe that he is mohair and stuffed with excelsior as he has that firm, crunchy feeling when you squeeze him. His whole body, arms and legs and head seem to be stuffed with excelsior.
His limbs and neck are jointed with what feel like large hard discs, and metal pins that go through the centre of the discs.
His inner paws and bottom of his feet are made of a smooth furless fabric rather than fur, it's quite rough though.
He has orange eyes with black pupils, which I think are glass, they feel like they are glued on as I cannot get my nail underneath them, and they don't move at all. I don't know if they are his original eyes or a later repair. His nose and mouth are stitched but look as if they may be a more recent addition/repair as they are in better condition than the rest of him.
He has a hump shaped back.
His ear are soft and floppy.
He is about 22 inches/56cm tall.
His arms are 8 inches/20.5cm long
His legs are 9.5 inches/24cm long.
There are some stitches at the front of his feet and paws.