Mary Meyer Souvenir Bears
by Theresa
(United States)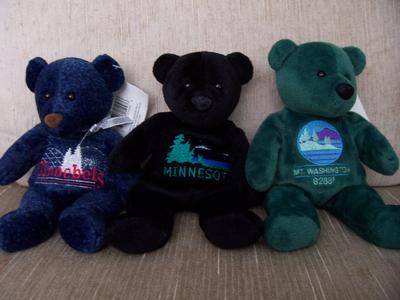 Mary Meyer bears
The bears in the first picture were all produced by the Mary Meyer company. I'm assuming they were originally sold to tourists as vacation souvenirs by various gift shops. I never actually planned on collecting souvenir, beanbag style teddy bears. It just kind of happened.


The first of these bears that I purchased was the Knoebels bear. Knoebels is an old fashioned amusement park located in Pennsylvania. I have some fond memories of trips taken there with my family, so when I came across the Knoebels bear at my local thrift store I had to get him. Later at the same thrift store I found a similar bear from Hershey. The Hershey bear is in a separate picture because he has no tag or label, so I'm unclear if he was also made by the Mary Meyer company. However the style is pretty much identical to my other Mary Meyer bears, which leads me to believe the Hershey bear was most likely a Mary Meyer product. My parents had taken me and my siblings to Hershey, Pennsylvania a few times during the Christmas season to see the live reindeer, and I thought Knoebels Bear could use a friend. So I bought Hershey Bear too.
The third bear in the collection was found at a flea market and originally came from Minnesota. I've never been to Minnesota, but I thought the coloration and embroidery on this bear were absolutely lovely. I found my fourth souvenir bear, Mt. Washington Bear, at yet another thrift store. Earlier that day my father and I had seen a bumper sticker from Mt. Washington on a car parked at the convenience store. We had never heard of Mt. Washington before then, apparently it's in New Hampshire, so when I found a Mt. Washington bear the same day it seemed to me like it was meant to be.
I think I reached a turning point when I bought Mt. Washington Bear. Now I actively hunt for interesting Mary Meyer souvenir bears when I'm at flea markets or thrift stores. But I don't buy every bear I find. I've come across a bear from Florida a couple of times, but in my opinion the bear's bright yellow fur color is just too bright and not very attractive.