Merrythought Bears Identification
Merrythought bears came relatively late to the early bear scene in the UK, with the company being established in 1930. 
Guide to this page
The traditional bear from this company came in ten different sizes in gold mohair and various coloured art silks. 
Merrythought teddy bears are still hand finished to this day and have always been considered very high quality British bears.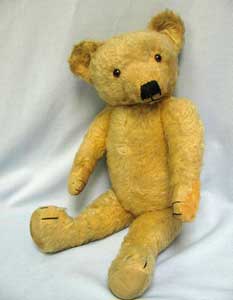 After the Second World War the company began to produce most of their bears for the export market, America in particular.
From 1982 limited edition bears which were signed by the chairman of the company were exported to America to cater for their ever increasing teddy bears collectors market.
---
Here are the current vintage bears listings For Merrythought teddy bears on eBay
Please click on the Images for further details.
Merrythought Teddy Bears - Distinguishing Features
The classic features are:
 Head stuffed with wood wool
Muzzle is shaved
Eyes are set wide apart
Flat ears sewn across front face seams
Square vertically sewn nose
No hump
Fully jointed
Body stuffed with Kapok and wood wool
Long arms
Webbed stitched claws on paws with shorter stitches than early J K Farnell bears
Most made from Mohair but a few early bears were made from art silk
However there are some vintage bears made by this company which had a few different features such as the 1930's "Bingie Bear", who was not fully jointed, did not have the webbed claws and had a single front head seam.
Cheeky Bears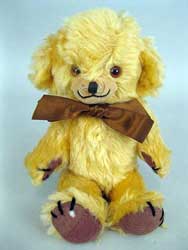 One of the most distinctive range of bears produced by Merrythought are the "Cheeky bears". They have a very particular look. Their distinctive features are: 
Large ears set on the side of the head.
A small rounded muzzle
A large stitched grin
Short arms and legs
Circular paw pads


Trademarks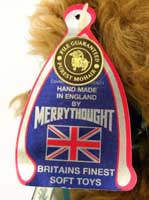 Early Merrythought antique teddy bears had a celluloid button in the ear and a paper tag around the neck. Some also have a embroidered label on the foot. 
Merrythought's company logo is of a wish bone and this appears on all labels. (Merrythought is an old English word meaning wish bone.)
---
If you enjoyed this page, please consider sharing
 it with your friends:
Back to top of this Merrythought Bears Page
Back to Antique Teddy Bears Main Page
Back to Teddy Bears Home Page