Merrythought God Bless Mummy Micro Bear
by Tilly Hancock
(Wales, United Kingdom)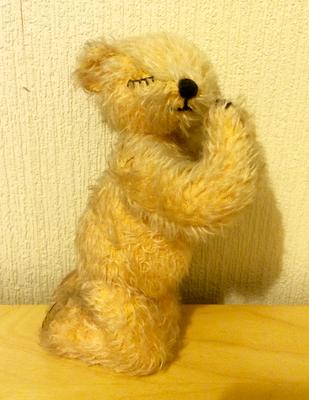 Merrythought God Bless Mummy Micro Bear
I have a Merrythought 'God Bless Mummy Micro' Bear.
I inherited him from my Grandma, along with a modest collection.
This bear in particular sat on the shelf in my bedroom at my Grandma's house.
He is 7 inches tall and is kneeling in prayer.
He is handmade in pure mohair and is a light tan colour with beige pads.
He has hand embroidered eyelashes, nose and claws.
He is a limited edition bear of only 500 made and he is numbered 146.



His joints are fixed / sewn in place. You cannot alter his position from the preying position.
He has a tag on his side and a label sewn onto his foot.
He still has paperwork with him. I have included pictures of everything.
On researching, I have noticed that another of these bears was included in an auction in 2010, along with a few other collectable bears. The entire lot only sold for £70.
I have been wondering if perhaps this just isn't a very rare limited edition bear or if perhaps the teddy bear market was at a bit of a low at that point.
Many sites and forums boats that Merrythought is the British Steiff and there is a lot of love out there for this bear manufacturer!
The collection that I have inherited is, I'm sure, modest by a serious collector's standards, but is still too large for me to be able to keep myself. I am selecting one of two of my most favourite bears but will sadly be parting with a majority of them!
I am hoping to get a valuation for a private sale and if anyone is interested I would be willing to discuss the sale of the bear.
I would love for this bear to go to a good home. One of a loving teddy bear collector where he will have lots of friends. I would love to know more about this bear, from a history and a valuation point of view, before we part ways :)