Mohair bear from Glenorchy, Hobart.
by Reswob
(Australia)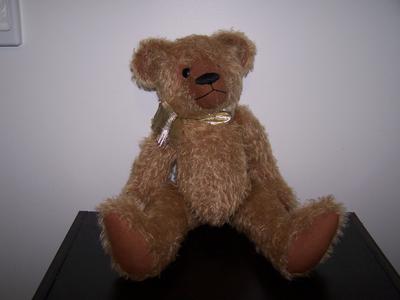 Glenorchy front
I really scored the jackpot when I bought this bear. I bought this bear for $10 from a Chinese lady at the Glenorchy Island Markets in Hobart, Tasmania. This bear is definitely an artist bear created as an adult collectable (That Chinese lady had no idea of the value of what she had!) , although I am at a loss as to how to find out more about his maker. For the while, I am calling him Glenorchy.


I am sure this is a mohair bear. I have bought similar fat quarters of mohair from ebay. The backing is a terracotta or brick red colour. This can be seen easily by the plucked muzzle. The pile is some kind of distressed antique sparse type. The pile is approximately 1 cm long. The bear is just a little over a foot tall. He has a two piece body that is squared off at the base, giving a point to his lower belly and his bum. He has a hump on his back, although the gold ribbon makes this a bit hard to see. I cannot feel any polylester beans, lead shot or crushed garnet that bear artists often put in their bears to give them some weight. I suspect that this bear is stuffed with polyester fibre. It has that kind of feel to it, although it is firmly packed in. The jointing system used on him indicates that his creator was an experienced bear maker. His joints are wobbly, to emulate the way they would be in an old bear. They are all of equal wobbliness, but his head is joined firmly. I think cotter pin joints are highly likely.
His head appears to be something of a replica of a centre seam Steiff bear. The black glass eyes are in great condition and pulled deeply into the head. He has a pronounced chin and his facial expression seems to be rather neutral. The nose embroidery was executed with one layer of satin stitching with black perle thread. The mouth was stitched using the same perle thread. There is no claw embroidery. The nose embroidery suggests that the creator was experienced.
The forelimbs and hindlimbs are roughly the same length. The arms have a gentle curve to them. The legs are straight and the paw pads of the feet have somewhat pointed toes. The paw pad fabric appears to be some kind of velveteen or other kind of woven fabric with no pile. The colour of this fabric matches that of the backing, being a brick red or terracotta hue.
I am aware that Tasmania, the most southern state of Australia, is a nest of artists. There is a good group of bear artists down there, so I suspect that this bear was made by one of those people, but it unfortunately has no identifying tags on it! There is no tush tag, no swing tag or any kind of identification mark on its body be it button or embroidery. I'm hoping someone can give me some clues as to his origins.