Mohair growler bear ? 1950s
by Tao
(England)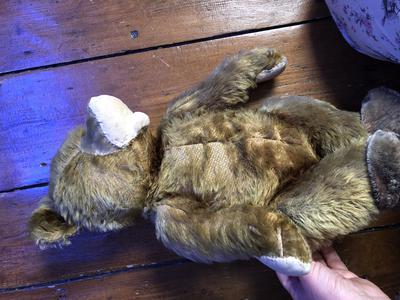 Mohair growler bear
Hi, I would love to learn more about this bear which was given to my mum by a Canadian mounty in the early 1950s. She brought him to England in 1953 when she moved here. He is sadly in poor condition and has had repairs to his snout and paws. And no eyes!


I can't find any buttons or labels to ID him, he is faded but appears to have been a darker brown originally. He has jointed limbs and his paws turn out outwards. He growls when tipped forwards. He possibly has a small hump to his back but hard to tell as he has been stored flat.
His stuffing looks like a dense wool? And feels quite firm.
Any help would be gratefully recieved.
Join in and write your own page! It's easy to do. How? Simply click here to return to I.D Your Bear.
If you enjoyed this page, please consider sharing
 it with your friends: