Mom's 1940s(?) teddy bear
by Amy
(Southern California)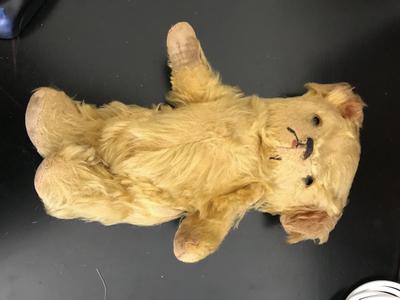 Moms 1940's teddy bear
I found this teddy bear among my Mom's belonging so guessing it was one of her childhood toys - she was born in the early 40's.


He's about 9 inches high, and his body (excluding limbs) is about 3 inches wide.
His fur is orangish-yellowish and a little on the scratchy side (definitely not soft). The inner-part of his ears is a darker orange - not sure if that's the original design or if he was originally that color all over and everything but the inner ears faded.
His head, arms and feed all move - his head can swivel 360 degrees.
The bottoms of his feet are very soft - feels like suede. The palms of his hands were made with the same soft material – but they've had some more then the fed.
His eyes are plastic.
The nose and mouth are sewn on.
His fur is definitely patchy with bald spots - I'm sure he was very loved.
There's no tag attached.
I'd love to know more about this bear – any details you might know regarding his age, the maker or other interesting facts, I'd appreciate it!