Mr Bear is at least 50 years old
by Kurt
(Australia)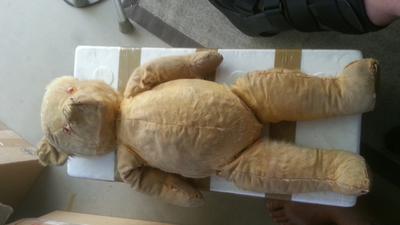 Australian teddy Bear?
Hi every one when I was a little boy I got this bear that I loved almost to death. I remember sleeping with him by my side for many years. I packed him in a foam box about 30 years ago and that is where he has lived ever since. He has no visible markings or tags so I have no idea what make etc he is. Any help in identifying this old friend would be very much appreciated. He has lost a lot of fur and has a few minor tears but all up he is pretty good shape for his age, intact I think he may have outdone me, lol. His eyes appear to be a type of plastic and his nose was stitched on in some sort of thread although as you can see from the pictures it is almost all gone, too much love perhaps, he is somewhere around 550 to 600 mm high. Anyway if anyone can help identify this little guy that would be great, he was purchased for me in Australia as far as I am aware back in 1965, thanks.


Comment
Well he certainly does look well loved.
Looking through my teddy bear encyclopedia he could be a 1950's Verna bear from Australia. He does share some of it;s characteristics. They were filled with solid shaped pieces of foam rubber at that time.
You did not mention if he was jointed or not. A verna bear would have been.
Anyway this is just my guess. Perhaps someone else will have another suggestion for you hear in the comments.
Kate