Mr lover bear ?
by Kym
(Essex. UK)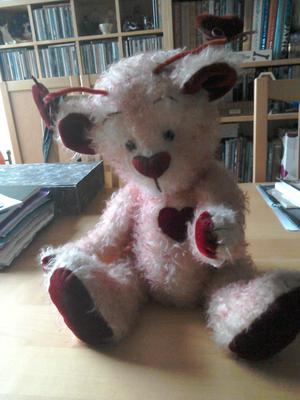 purple teddy bear
This bear was purchased over 15 years ago , have two others by the same maker, called something to do with types of coffee !, I think.
They were purchased from another collector. I seem to vaguely think they may be German. This one is fully jointed with pink and white mohair and glass eyes. The hearts are poseable and made of velvet, as are the pads. That's about it, I am afraid. Can anybody help ?
Also the button plastic and is stamped on one side with a cat's smiling face. This bear is number 1. The other two mentioned are numbers 2 & 3.
Join in and write your own page! It's easy to do. How? Simply click here to return to I.D Your Bear.
If you enjoyed this page, please consider sharing
 it with your friends: