Mr. Ted
by Nina Skjalg-Stephan
(Johannesburg, South Africa)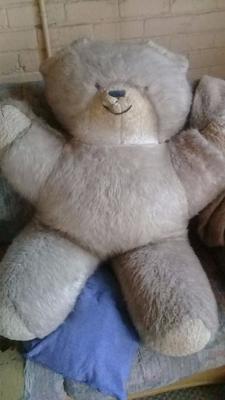 Mr Ted
Hi. When I was about 6 years old my Mom and Dad got divorced and I was devastated. We lived in Harare, Zimbabwe (which was then known as Salisbury, Rhodesia). I wasn't doing that well in school because of the divorce and I was really struggling. When I turned 8, my Dad said to me that if I came 1st in class he would buy me anything I wanted. Well, I came 1st and asked for the biggest Teddy Bear he could find. Hence Mr. Ted became part of my life. He is 1 meter tall (39.37 inches) so I was able to sit on his lap and tell him all my stories - which was very comforting. Today I am 56 and Mr. Ted is still with me, he is now 48.


He needs a good steam clean which I have arranged with a professional cleaner to do. He has black glass eyes and a stitched nose. Unfortunately, there are no tags on him.
I have added two pictures front and back of Mr Ted. Hope you can open them.