Mrs bear
by Mo
(Wales)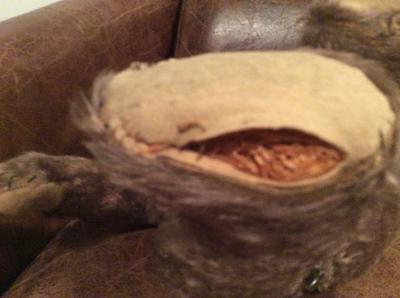 teddy bear foot
My Bear was a present for me on my Fathers return from a business trip to Germany around 1960. I seem to remember he mentioned a toy fair which is where he saw my bear. My bear, with a most unlikely name of Trixie is about 2 foot tall with dark brown fur which is not particularly soft or silky. He is not a soft cuddly bear but quite firm and stern looking with a firm snout and long arms. He had a growl which unfortunately no longer works and his head moves from side to side and up and down (as in yes and no) by moving his short stubby tail. He looks more like a grizzly bear than a child's cuddly teddy. I think most of my Fathers business trips were in Cologne as far as I can remember.


Trixie has come unstitched on his feet and I can see the stuffing of straw inside. He has been very well loved and it shows but he is still a handsome boy. I would love to know more about him and his history. I can't find any labels, buttons or identyfing features. His most distinctive feature is his stern look...nothing soft, gooey or sweet about Trixie and his body is extremely firm even hard so nothing cuddly about him either.
Join in and write your own page! It's easy to do. How? Simply click here to return to I.D Your Bear.
If you enjoyed this page, please consider sharing
 it with your friends: