Mum's childhood bear
by Lindsay
(Sale Trafford UK)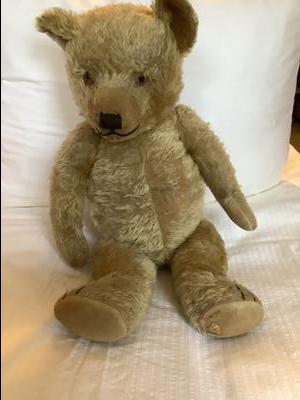 Bruno
As long as I can remember Bruno has been around. We weren't allowed to play with him


From the tip of his ears to his toes he is 23". right arm is 9" and the left is 8 and a half. His legs are 9" long
He has stitched eyes, pads on his palms and soles of his feet. His snout is stitched as is his mouth. The mohair is in good condition except for his tummy, hands and one of the pads on his feet has a worn patch at the heal. Arms, legs and head all move. His ears are beautiful and soft. He does not have a humped back and there isn't a tag.
It was a birthday present for my mum who was born in 1932 so is at least 80 years old.
He sat on a small chair in my parents home for many years then was on a bed in the spare room for the last 15 years.
There's very little sun damage, if you raise his head you can see the original colour but there's not much difference.
He has stitching to define his toes, but not his hands
His snout sticks out 2" from his face and is a darker brown with a stitched nose and mouth. His eyes are stitched with brown and black thread. One looks like it may have been repaired.
He's in better condition than most 80 year olds! All his limbs and head move easily. He has a seam down the middle of his tummy. I've looked at all the images on line but not found one that looks like Bruno.
I am attaching photos, I'm happy to send more if necessary, I really hope someone recognizes him and can tell me more about him, I have no idea what he is worth.