My 1980's Bear. can You ID Him?
by Kate
(Maidenhead)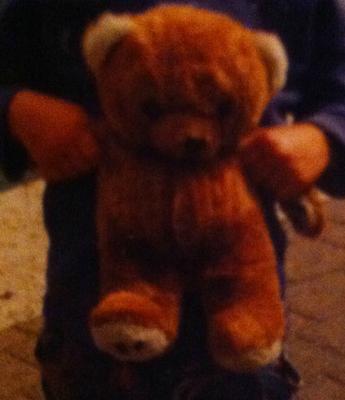 1980's bear
I received this bear on the day I was born (4th May 1988) as a gift from my Aunty. All I know is that she probably purchased it in April/May 1988 on the UK High Street (potentially Bristol and possibly in Mothercare or Children's World).


I lost the bear about 8 years ago in Cuba and never got it back. So I am desperate to find out where he's from, so I can buy another second hand one.
He has a short muzzle. A plastic nose (black) and plastic hazel/brown eyes.
His stuffing was soft, like cotton-wool style?
And his fur was a caramel brown colour, texturised. With lighter sections on the insides of his ears, and ends of his hands and feet.
He also had stitched paws/claws, in dark brown stitching.
The only other thing I remember about him is that he had a very small white tag on his back. When I was kid I remember a small logo on it, perhaps the shape of a bear's head? But as the years went on, the tag lost any text or logos.
Any help would be so so so appreciated! I'm desperate to find out where he was from.
Comment from Kate
Sadly bears from this era bought from chain stores can be incredibly difficult to identify. They were mass made, looked like many other bears of the time and due to their cost were often discarded and thrown away in the end.
I have spent some time trying to find a similar bear but have not come up with anything. All i can recommend is that you write to mother care to see if they have a archive and can help. However even then i think it will be incredibly difficult to find the exact same one still around.
I wish you luck in your search.