My best pal growing up!
by Casadei
(Michigan, USA)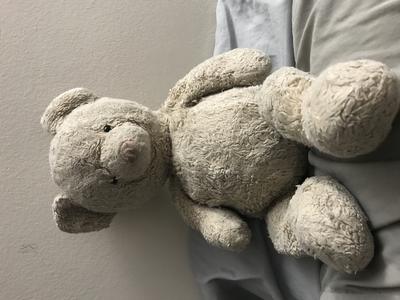 I got my bear when I was born, 22 years ago, and has been through it all with me. I dragged my bear everywhere with me. My bear is now old and worn but I want to find another for when I plan on having children in a few years. I would love to have a matching bear with my baby. My bear was very light pink and had a bell that has been broke for as long as I can remember. The only reason I know my bear had a bell is because I can feel two halves of a sphere inside my bear. I will attach a picture of what my bear looks like now and when I was in kindergarten. If you have any info or can let me know where I can find a match it would be deeply appreciated. Thank you
Join in and write your own page! It's easy to do. How? Simply click here to return to I.D Your Bear.
If you enjoyed this page, please consider sharing
 it with your friends: