My Blue Rattle Bear
by Nathaniel
(Washington)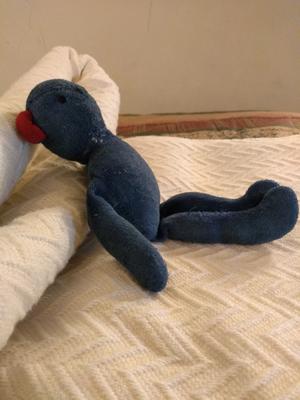 My Blue Rattle Bear
I would appreciate anyone's help in identifying my longest companion. This is my Blue Rattle Bear.


The story goes from what my mother has told me, she was working at a motel at the time. One of the cleaners was performing her rounds, cleaning rooms, where she found my companion. I have asked her time and again if she could remember anything else about my bear when she got it from the cleaning lady, but she says she cannot remember anything else about it.
It has or rather used to have a tag on the left side of its stomach, or the right side as you look at it from a heads on perspective. He is stuffed with four limbs, two arms and two legs. THe insides of his ears are Red. In his head is a rattle henceforth why I call him my rattle bear. He has been with me for many years, going on now for 26 as I turn in September.
I have done some cursory research in the past trying to find similar bears such as my companion. But to no avail. Any appreciation would be helpful in helping me to ID my small blue companion.