My childhood bear, looking for ID info
by Taylor
(Maple Grove, MN)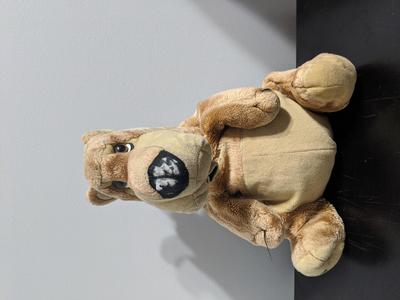 bear with a black nose, slightly round mouth, and small ears on back. Overall a brown/tan
I received this bear 28 years ago as a present from my grandmother, who recently passed.


I do not know where he was purchased, although it would have most likely been a department store in Minnesota
The bear had a black nose, slightly round mouth, and small ears on back. Overall a brown/tan color, with short fur on everything but the bear's stomach area, where it transitions to a even shorter, lighter fur. This same short fur is matched around the nose, and on the bottoms of the paws.
The tag was cut off long ago by me. I remember it was blue, and even now, you can see some blue thread on the tag stub. Location was under the bear's left leg.
The bottom paws have black thread between the toes. Most of these have fallen off by now, but some threadbare remain.
Similarly, the front paws also used to have black thread to give the appearance of multiple toes.
There is some black and white plastic under the eyes. The eyes themselves are hard glossy black plastic, and have a brown retina around a black iris.
You can see most if the fur has worn away. Underneath is a white mesh that the fur was woven through. The shorter, lighter fur has not started falling out, but is made of the same material.
Overall dimensions are 12" tall, and about 8 inches wide, from leg to leg on the bottom.
The ears are off the back of the head, and have both types of fur. The shortest, white fur is in the middle, with the longer fur around the outside.
It is stuffed with what I assume is pretty standard stuffing. Used to be pretty plush, but has gotten a little lumpy in the last 28 years.
Amy help is appreciated.