My Great Aunt Mildred McDonald's Teddy Bear
by Mark R. Lyons
(Black Mtn, NC, USA)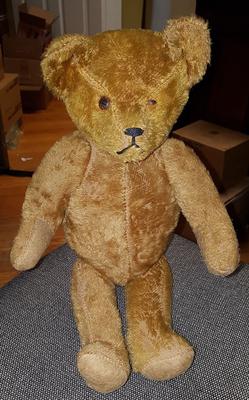 Teddy front view sitting
This is a vintage teddy bear that belonged to my great aunt Mildred I. McDonald, who received it circa 1912 as a one year old child. The bear has no tag, but looks to be a German-made Steiff bear. Great Aunt Mildred died in 2007 and the bear was found as part of an estate settlement by the family.

Teddy bears were named after President Theodore Roosevelt, who, while on a hunting expedition in 1902, had refused to shoot a tied up black bear deeming it unsportsmanlike (picture 5). This inspired toymaker Morris Michtom to create a stuffed toy bear and call it a "teddy" bear in 1903; the German toymaker Otto Steiff also came out with a teddy bear at the same time in Europe. In 1912, Otto Steiff traveled to the USA to market his bears - it is coincidental that Great Aunt Mildred received her's that same year

Seventeen inches tall, this little brown teddy bear is in good condition. The left glass eye is broken, and the stitching on the bear's neck and right leg are unravelling, but the bear has kept his shape and mohair fur, and the stuffing is intact. The arms and legs are fully jointed, 360 degrees moveable, and poseable.

Picture 4 shows Great Aunt Mildred with her teddy bear in 1915.

Given this, what is my little bear worth?
Join in and write your own page! It's easy to do. How? Simply click here to return to I.D Your Bear.
If you enjoyed this page, please consider sharing
 it with your friends: