My large and adored bear
by Kylena
(King George )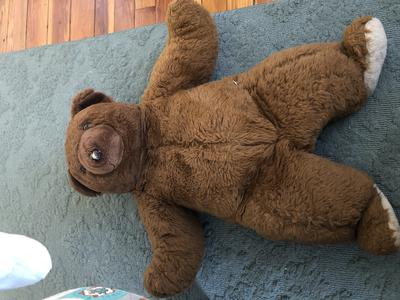 This is her :)
I found this bear in a goodwill in King George va roughly 4 years ago. She is about 3 feet long and had dark brown eyes with regular black irises. She does have a small tag, which I can't read fully.I couldn't find any info on anything on the tag.i put a question mark on letters I can't see. It reads on side one "??ucy's Toys
??anniston, AL (205)-236-5938 ??? Water wash" Second side: "all new materials OH 6116 PA 0921 MA 2659" She isn't as soft as she looks but while still being soft, it's also a bit rough. Her snout is made of a different material than the rest of her and is much softer and moves with your hand. The bottom of her fight is a beige and is super soft. Her nose is black with some white speckles, which is how I got her, but it seems that it was originally just black. Her nose as also started to fall out and is barley hanging on. By the way her legs are made, it seems as if she was made to just sit with her arms being down. Her ears cove in, but as I can't move them back it doesn't seem like it's been disfigured, that was just how it was made. Her back has the same material as the front and her head. There is nothing else on the back. She does not have a tail of any kind, nor does there seem to be a place where a tail was.
Join in and write your own page! It's easy to do. How? Simply click here to return to I.D Your Bear.
If you enjoyed this page, please consider sharing
 it with your friends: