My Prince Charming - 30" Antique Bear
by Stacey Chiew
(Malaysia)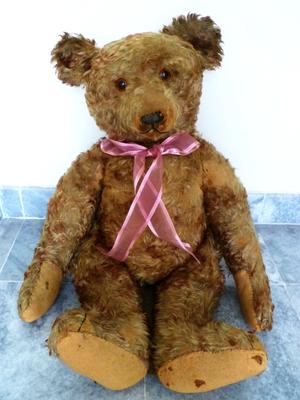 Old Wise Fellow
I have always loved antique bears, always have, always will. They have so much character in them. Many years ago, I purchased a 30" antique bear from a German student. The bear belonged to his grandpa. I fell in love with his happy smiling facial expression. Such a darling bear with so much personality!


I was told he is from the 20s-30s. I have had him for 20 years. Each time I look at him, he brings me hours of joy and comfort. Not to mention the warm and fuzzy feeling. It was a magical moment when I saw him the first time. I simply loved the joy of welcoming him to my home. He is a handsome bear, charming and very much loved.
This love affair I have with teddy bears does not stop when I left my childhood. I find it very comforting to have a quiet non-judgmental companion in a fast-paced world.