My Three Bears
by Elaine
(Redland bay Qld)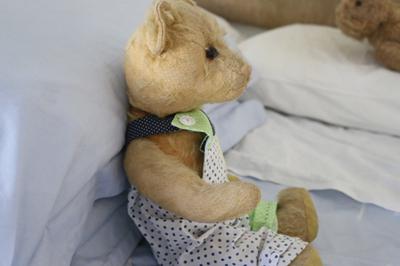 No 1 my old teddy
I have three bears, that I wish to know more about please
1. This is my teddy that I have had since I was a small child and I was born 1951 so I assume it is from that era. He is a gold colour with fully jointed arms legs and head and I have sewn new pads on this hands and feet over the time. this fellow is 44cm tall and in very loved condition.
2. Is a lovely soft bear golden brown with "Hamleys" in red embroidered on his foot I would like to know more about him as I rescued him from the tip. He is in good condition and 47cm tall.
3. This gorgeous bear was one I rescued from an Op shop and I love him as much as my original childhood bear. He is a darkish brown in colour slim, with smallish head and long arms. He has big feet and has no labels at all . I would love to know how old he is. He is in quite good condition and is 43cm tall.
Join in and write your own page! It's easy to do. How? Simply click here to return to I.D Your Bear.
If you enjoyed this page, please consider sharing
 it with your friends: