Sweater Ted 1938
by Amy I
(New Jersey, USA)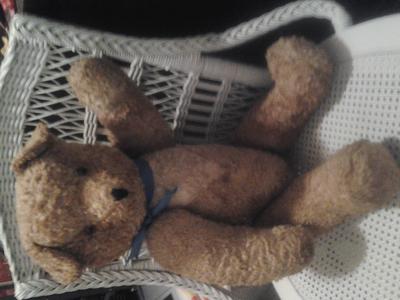 sweater ted 1938
My love of collecting teddy bears began at age 5 with the help of my Grandma Helen. One of the bears she gifted me, my favorite is a bit of a mystery. No label or button to identify it other than a tag that reads "sweater ted 1938". He is 24" tall, jointed at the arms and legs with the head sewn on. I believe he is stuffed with cork, has amber eyes and a black triangular stitched nose. No stitching on the pads.


Of all my bears he is my absolute favorite, I just wish i knew more of his history.
Join in and write your own page! It's easy to do. How? Simply click here to return to Brown Teddy Bear Pictures.
1981 Steiff Mama and Baby bear set
by Amy I
(New Jersey, USA)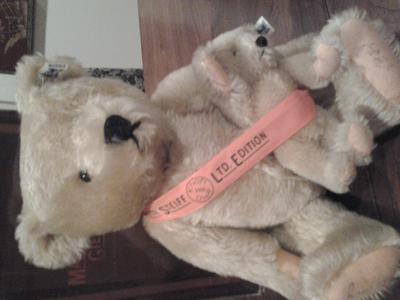 1981 Steiff mama and baby bear set
I purchased this limited edition set #4477 in 1982 at Meyers toy store in NJ and is special to me for several reasons. This was my first Steiff and I paid $150.00 (a lot of money back then) money I earned working on a horse farm. I really wanted this bear!
I became an avid collector and went back to Meyers toy store when Hans Otto Steiff was there signing bears. I had the fortune of meeting him as he signed my bears and the certificate as well as taking a polaroid with he and his wife and the mama and baby bear set. I still have the receipt and the picture always makes me smile, what a wonderful memory!
If you enjoyed this page, please consider sharing
 it with your friends: