Mysterious Bear made for Harrods by Merrythought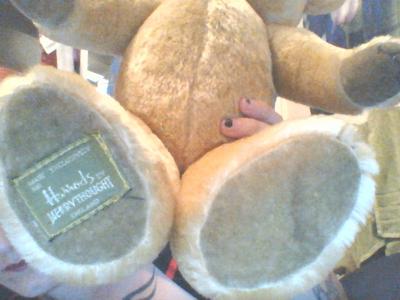 bottom of teddy bears feet
This bear would have be bought in 1991/1992 in England, as it was gifted to me the year I was born, 1992.


Label on foot reads "Made Exclusively For Harrods by MERRYTHOUGHT "
There was a label on his lift side but there are only threads left.
He stands more than 16 inches tall.
Very stiff joints.
I think he is disk jointed.
His music box plays "The teddy bears picnic"
The music box is wound by a silver key in his back.
Short golden fur, brown eyes.
Paw pads and feet are soft brown velvet.
Nose and paws stitched with black wool.
This lovely bear of mine is proving harder to find any info on than I expected as his makers label is intact but I can find nothing about him or even any like him.
Reply
It is not uncommon for specialist shops such as Harrods to commission bears to be made for them from top makers such as Merrythought. They are usually only made in limited numbers and so information about them online can be hard to find.
Your best opton is to send a letter to Harrods and to Merrythought to see if they have any more information for you.
Unfortunately even though your bear may be one of a limited amount it does not necessarily mean they have a large value at this stage. However if you look after it and keep it in good condition for the future it's value may rise due to its condition, quality maker and varity.
Sorry I was not able to be more specific about your actual bear but as I say you need to ask the actual makers for more information. Good luck. Kate