Mystery Bear from Somewhere!
by CHris
(Minneapols MN)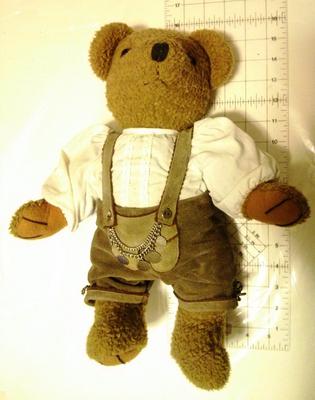 FrontView-15 inches tall
Don't know much about this Bear's history: He is travelling without papers!


...Seeking permanent sanctuary!
It appears that there MAY have been a tag stitched BEHIND the Left ear, as there is about 1 inch of stitching visible at the base of the ear, that is definitely not present behind the Right Ear. Other than that, no evidence of labeling remains.
This little brown bear came to me with the Oktobearfest costume, including a matching leather vest (not pictured, but in very good condition.).
It is a faux wooly plush, in only one color, with paw pads of felt, and 2 stitched-in toe-creases.
Hinged 5-ways.
I can't really say how old it is, except that I have had him about 5 years, and he wasn't new when I got him.
Appears to be stuffed with kapok, or other like soft stuffing: Nothing rigid, except hing/swivel rings.
My ignorant guess is 80's at oldest, but would love to know more!
Thank you!