Mystery Musical bear
by Sarah
(Norway)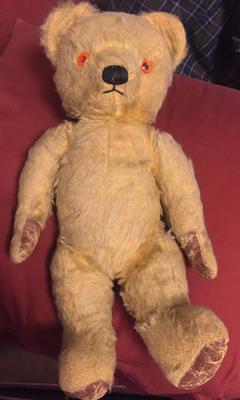 Musical teddy Bear
Hello, I wonder if anyone could tell me anything about my old bear friend. I bought him in an auction in UK in the 70's. He is about 17"-18" tall, quite long arms with long shaped paws, boot shaped feet, black stitched nose, hard orange eyes. His head and chest are filled with something crunchy sounding, the arms, legs and tummy have a firm filling (padded feel). His paws look like painted cotton, stitched on. All limbs are jointed and move. He can be wound up at the back and plays a really pretty version of "Teddy Bears' picnic". I don't think this is the original turning knob, as I seem to remember it being lost when I was a little girl (this one could be from a music box).
Any information would be much appreciated.


Join in and write your own page! It's easy to do. How? Simply click here to return to I.D Your Bear.
If you enjoyed this page, please consider sharing
 it with your friends: