Nanook the Polar Bear
by Elizabeth Chamberlain
(United Kingdom)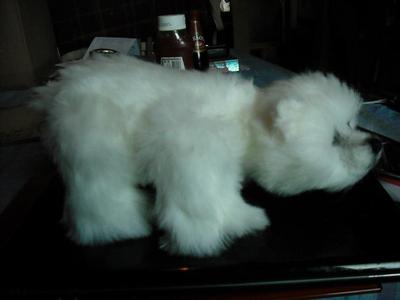 Nanook
This is Nanook He's My very first Polar Bear, he was made from a Beautiful white faux fur, He is a 6 Way cotter pin jointed bear , his neck is jointed, unlike Traditional bears who usually are 5 way cotter pinned jointed , so he has lots of possibility!!


He was my first Polar Bear and I would love to make more Realistic bears in the future.
Nanook went to Live with Lulu the Orangatang , she loves him very much
I started making bears just under a year ago and have come a VERY long way in my bear making craft.
My Bears have been adopted as far away as Latvia!!
My name is Liz Chamberlain and my Bears are called Bears To cherish, I called them that because I think EACH and every bear should be cherished!!!