Need help identifying teddy bear - no tags
by Mischa
(Darwin, Northern Territory, Australia )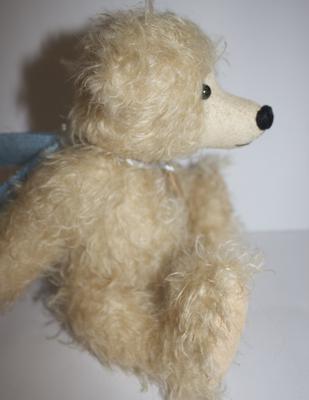 Light Cream teddy Bear
This cute little bear is light tan or a cream colour. with light tan paws.


Has a long snout made from what looks like thick cotton or hessian fabric which is also underneath his hair (whole body) as well.
Has a black embroidered nose and mouth. It looks like embroidery cotton and it is not freying or wear on it or coming off.
Eyes are like boot buttons - they feel like glass. There is no damage to the eyes and very smooth to touch.
He's mohair (I did the test that is outlined on your website here - took a sample of hair, burnt it and it turned to powdery ash). This fabric is not soft and is rough to the touch and is matting a bit. I haven't brushed or combed it and left it as I found him for fear it might pull the hair out.
His hair is matting and flat at the back a lot more than in the front.
He's jointed or moveable at the head, arms and legs. The limbs and head are very easily moveable - not stiff.
He has no rips, and all seams are intact.
Paws and feet pads are wearing and feel almost leather like, a bit like the underside of leather- rough feel
He has dragonfly or fairy wings on his back that are blue sparkly iridescent colour and fabric feels and looks like Tulle. They are freying a little. More on top than all around. The fabric still feels good. And the stitching is still good.
Tag tied
around neck is a wood with "Puck" written on it (like the fairy from Shakespeare play "A Midsummer's Night Dream)
He is not soft to squeeze, quite hard. And there seems to be different type of stuffing in his bottom and makes a noise when squeezed, like sand does to touch
Measurements of the bear :
Approximately 10 1/2 inches long
Snout is 1 1/2 inches long
Arms and legs are approx 4 inches long each
Width approximately 6 inches
I do not know his origins. I bought him from a yard sale and owner did not have any information. He does not have any maker's tags on it and I have searched the bear to see if any remnants of a tag being ripped or cut off, but there is nothing.
I have attached 4 of the best photos I could of his front, head, side and back
Any help with his make and age would be very much appreciated as I have spent hours trying to find him by googling vintage bears, bears with dragonfly wings and also under the word "Puck" - with no luck. Also searched Shakespeare bears, and also have not seen anything similar for sale on ebay or other sites selling particularly bears. I would like to sell this bear at a future date and am unsure on whether he is a vintage, antique or replica. I am satisfied either way, and actually tempted to keep him. I am also curious as know whether he is meant to be Puck from a Midsummer's night dream.