Newton Bear
by Wendy Bowditch
(Innisfail,Qld, Australia)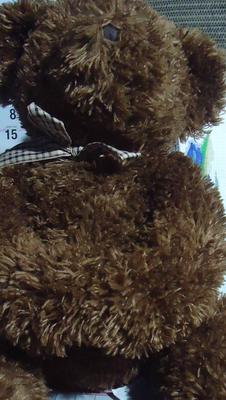 Newton Bear
Newton Bear is a Russ Berrie Bear. Newton stands 19 around inches in hight. Newton Bear has Inner bagged magnets in both hands as well as plastic pellets & polyester fibre. Newton bear's Reg, No is PA 259, KC7 0071, Item no S5297. Newton Bear is chocolate brown in colour with soft felt like fabric under his feet and also on his paws. Newton Bear has a brown and cream checked ribbon around his neck. Newton Bear also has glass chocolate brown eyes with black in the center.


Newton Bear is in excellent condition, the only flaw in Newton is on the bottom of his feet there is a small circular mark and this mark is on both feet.The marks are like the top layer of the very soft felt has come off but its not that noticeable. Newtons nose is stitched on with a brown thread and is also in great order. His muzzle is big and his eyes are about 2 inches apart and his fur is a very soft wavy chocolate brown. Newton also has big oval ears and a short stubby tail. He doesn't have any other patches that are a different material, he's just the same thread-like stuff throughout.The tag on his is a fabric tag.
I found Newton at a second hand Op shop and they had a special on, all stuffed toys are 50% off, I only paid $3 Australian for him
Information on his tag is:
All new material, conforms to Toy Safety Regulations. Contains inner bagged magnets, Pe plastic pellets & polyester fibre, Reg, No PA 259, KC7 0071, Item no S5297. On other side of tag is:
NEWTON, © RUSS BERRIE AND CO, INC,OAKLAND NJ. RUSS BERRIE UK LTD, SOUTHHAMPTON S050 SNZ. AMRAM'S BRAMPTON, CANADA LST 5M1. RUSS AUSTRALIA PTY LTD, BANKSMEADOW, NSW 2019, AUSTRALIA. MADE IN CHINA/FABRIQUE EN CHINE.I am wanting to find out as much information i can on Newton because when he sits proudly on his chair watching Tv with me at night i can look at him and know his history.