Old bear on wheels , I cannot identify the maker.
by Suzy Meek
(France)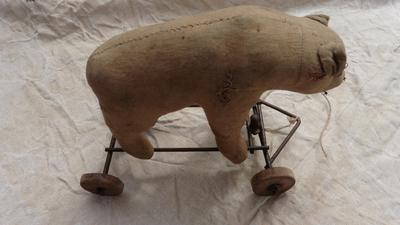 bear on wheels
I recently bought this bear at a antiques fair in France. The body is very firmly stuffed, facial features are embroidered, the eyes are boot buttons, and he has cute cup shaped ears. I don't know if the base has been adapted by some loving daddy, as most of the old bears on wheels have metal wheels. But the metal rods that join him to the base, are fixed into the legs, and I can see no sign of welding. There is no plush on the body, but he has immense charm . I would be most grateful if anyone can shed light on the maker, there are no labels or buttons !!. I would be most grateful if someone could identify the maker , and age of my bear.

Reply
The wheels look very crude so i wonder if it was a home made base.

I can't place the bear, he may be very old as a lot of original bears where made to look more realistic like this one. But then again in the 60's when i was growing up their were lots of toys sold with animals on wheels.

Sorry can't help, but he certainly is very different.