Old brown bear
by Carol Ludvigsen
( YorksEngland)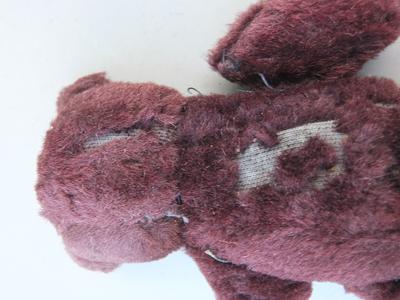 Old brown bear
I have just come across this bear which is in need of repair and I am wondering if it is worth getting repaired. I found it at a car boot sale in Yorkshire, England.
As you can see it has a lot of damage. It is about 9 inches high and its eyes are missing. His arms and legs have clearly been stitched on and it looks like his nose has also been sewn on.
I would love to know where this bear originates from ( which country) He has a crude small red mouth and the fur seems to be woven into some mesh type material I would also like to know its age and what it is made of. I obviously would like to know who made him if that is possible?
I do not know anything about bears and I am not a collector but I am wondering if this might be a collectable bear?
I would be grateful for any information that anyone can provide.
Does anyone have anything similar? Does anyone know where else I might find out more about this bear?

Join in and write your own page! It's easy to do. How? Simply click here to return to I.D Your Bear.
If you enjoyed this page, please consider sharing
 it with your friends: