Old family teddy bear
by Kathy
(UK)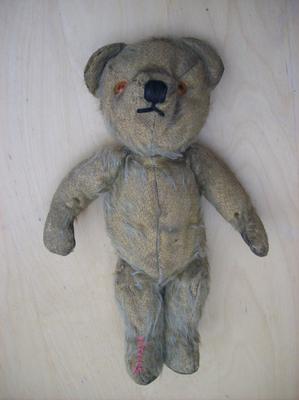 Old family teddy bear
Hi. I wonder if anyone can help identify this much loved and much repaired teddy bear. I am in my 50's and this bear was in pretty much this state when I was a child- I always presumed it belonged to one of my older brothers (dating from 1950's) but wondering if it could perhaps have been my Mum's (1930's maybe). Unfortunately I can't check with her as she's no longer with us.


The bear is approximately 12 inches tall. It has jointed arms and legs- I can feel hard circular joints under it's skin. It has orange eyes, a sewn nose and mouth together with very worn darker pads on it's paws. It has been sewn back together down it's back and on it's right leg pre 1970's. I'm not sure what it is stuffed with- it's quite soft to feel and makes a rustle noise when I gently squeeze the head. It has a hard internal part in the chest region- I don't know what this is without opening the bear up. It looks like it had fur all over but largely worn off- most still remains on the legs. The bear can sit as it's leg joints allow it but the arms no longer seem to move from the position they are in- if indeed they ever did. I live in the UK and the bear has been in the UK throughout it's life in my family- although obviously it could have been made elsewhere.
I wonder if anyone can identify or date this family bear in any way. Thank you in advance. Kathy
Join in and write your own page! It's easy to do. How? Simply click here to return to I.D Your Bear.
If you enjoyed this page, please consider sharing
 it with your friends: