Old Friend
by Mindy
(Roscoe, NY, USA)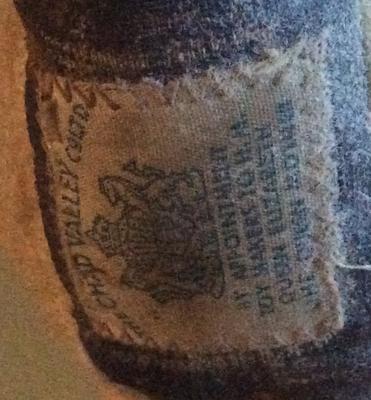 This is a bear that belongs to my husband who is now 64. This was his first--and only--Teddy Bear. The fur, as you can see shows signs of love. The eyes were replaced with buttons. The left foot needed a patch, but the right foot still had the maker's tag (see photo).

Teddy's seams are still holding and all of his joints are in working order. His stitched on claws are missing from one paw entirely.

My husband recalls that once when he was sick with a cold after his mom had rubbed is chest with Vick's vaporub, he did the same to Teddy. AFterall, what was good for the boy must be good for the bear!

Do Teddys that have seen this much love still have any value besides the sentiment? This bear will go to my husband's daughter, but I would like her to know all she needs to know about this little guy.