Old Large Teddy Bear -- Steiff? Age?
by Andrea
(Canada)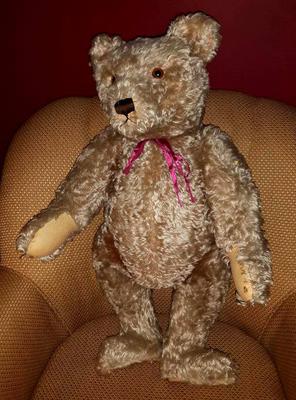 Old Large Teddy Bear
I'm trying to find more info on this lovely bear.


He is approximately 28" tall from top of head (not counting ears) to bottom of feet.
Excelsior stuffed.
Possible voice box that I can slightly feel and sometimes hear a bit, but would consider it not working.
Fully jointed with a swivel head, honey or beige mohair that's very dense.
Hump on back.
Vertically stitched, dark brown floss nose and mouth.
Four floss claws each on front and back paws.
Felt paw pads, covering stiff cardboard on back paws.
Stitching down mid-front torso and mid-back. (No stitching on legs.)
Small split down front, middle stitching approx. 3" from neck. (tag removed?)
Tiny hole in back or right ear (metal tag removed?), but can see nothing in front of ear. Fur is very dense, making it difficult to see underneath.
Two small stains on left back paw and also on front (glue?). (See pics attached)
Otherwise in excellent condition, no wear to mohair, floss complete, looks all original, no unusual smells.
I'm guessing this was well-stored and unplayed with due to large size.
Would like to know manufacturer and approximate age and value. Thank you.