Old teddy bear in New Zealand
by Rachael
(New Zealand)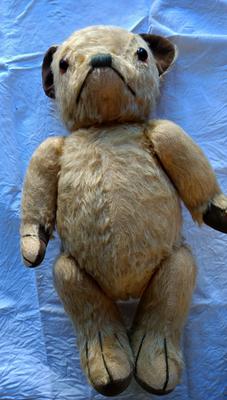 Old teddy bear in New Zealand
Hi, I'm hopeful that someone may be able to give us some information on a bear that was donated to our small library/museum. We plan to use it in a display and would like to include some information on it. We have no background information from the donee.

He has golden coloured fur (photos of him sitting and his head are the closest), with dark brown velvet patches for pads of paws and the inside of his ears. Arms, legs and head are jointed and move fully around. They feel like they have circular plates at the joints. He is firmly stuffed and rustles slightly when pressed. It feels like there is a round flat insert under the fur in his back (maybe a growler or similar). This clunks slightly if you shake the bear, but doesn't actually make any noises as such.

He measures 46 cm (18 inches) from the top of his head to the sole of his feet. His waist measures 48cm (19 in) and head circumference at eye level is 40.5cm (16 in). Arm length is 12cm (just under 5in) from top of shoulder to wrist, then 5cm (2 in) to end of paw. Leg length is 19cm (7 1/2in).

His eyes feel like glass and are orange/amber with a black pupil. It feels like there is a circular piece under the fur (behind the eye) holding them in place. His nose and mouth are stitched on with a double strand of thick cotton?. Stitching on the nose is up and down, with the outer stitch on each side higher than the middle ones. His mouth stitches emerge from the outer corner of the nose. His paws have the same thread for stitching, with three large stitches for each paw, one central and two outer, all three stitches going through the whole paw, through the velvet hand patch. His foot paws have five long stitches each, although these stitches do not go through the velvet, but stop at the seam.

I hope this info helps someone identify our bear. We would love to know who made him, maybe possible dates? Anything else that may be known. Thank you!