Old teddy with mouth that opens and closes.
by Janet
(Shetland)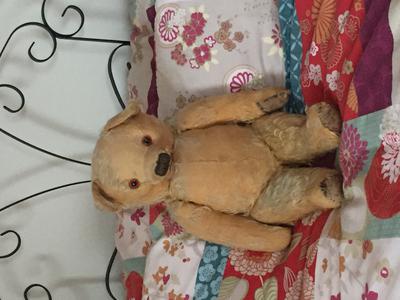 Old teddy with mouth that opens and closes.
I was given this teddy in about 1967 and he was old then. He is fully jointed with moving legs, arms and head, and a mouth that opens when the back of his head is pressed. I think he has golden mohair and his pads and eyes are original as far as I can tell. I am not sure what he is stuffed with but he is very firm (I think it might be some sort of straw.). He is about 19 inches in height and weighs approximately 1.25 kg. He has no labels for identification and I can't see any sign of where a label could have been.


He has been my friend since I was about 4 and still lives in my bedroom with a few other more modern teddy pals. I have tried to find out more about him, but have not been able to find out where he came from or how old he is. Any help or advice on where to look for more information would be greatly appreciated.
Thanks in advance.