Old Teddy
by Jim
(Alexandria, VA, USA)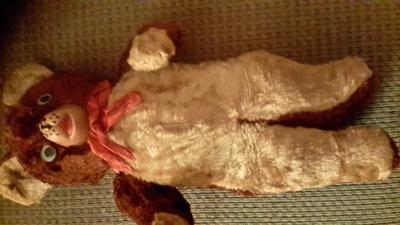 Blond and red teddy bear
This Teddy bear came from my father's "old stuff". He was born in 1920, but I don't know how long he had it.

The bear is 38 cm tall & about 20 cm wide. He ears, paws and torso front (neck to feed) is a golden blonde. The rest of the body is a reddish brown.

The eyes are googly and the snout is a painted hard plastic. He has a red ribbon bow around his neck

I am curious as to the possible age and manufacturer.
Join in and write your own page! It's easy to do. How? Simply click here to return to Other Color Teddy Bears.
If you enjoyed this page, please consider sharing
 it with your friends: