Patriotic Teddy Bear
by Jerri
(Otisville, NY)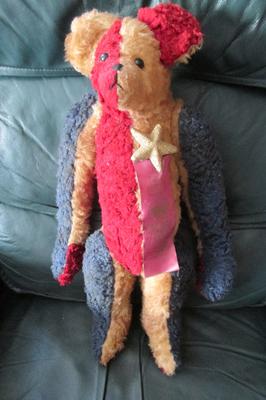 Patriotic Teddy Bear
I have what I believe is a very special Red White Blue Teddy Bear. I have not an expert in bears, but I can tell you the following.


It length is 22". It is red, blue and brown? Maybe white. Very patriotic and after searching I can find no other examples of this bear. I am not sure if the original was white and darkened with age or if it was originally white.
It has red pads on the feet. It has very long arms that rotate as do the legs. (Arms are 12" long - legs are 9") The back is humpback.
The snout is long and pointed. The feet stick straight out and rather long. The hands on the arms are straight down. It has a ribbon from the Guernsey County Fair (First Premium)
Does any know about this bear?