Petz with growler wearing Buddy Lee vintage overallls
by CAROL
(United States)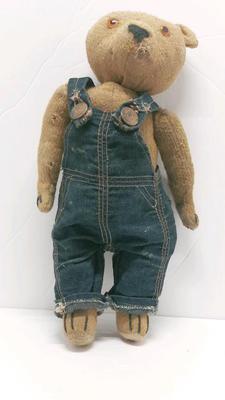 Front
I acquired this teddy at an outdoor auction. It came with no history. Its face and shape leads me to think it is Petz from Germany. It does have a growler but it is not working. There is lots of wear to this little guy. It has glass eyes. He is filled with excelsior. The covering is a bit rough to the touch. I was surprised at how it was made. The stitching on the back is crudely sewn.


Also, he is wearing vintage Buddy Lee overalls, I believe. The buttons are stamped Lee and the stitching is indicative of the Buddy Lee Overalls.
Thank you for any information you can provide and his value.