Please can you help me identify this bear?
by Hayley Thomas
(Penzance, Cornwall)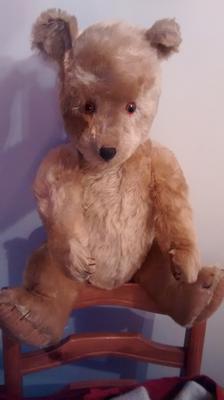 Who is this bear?
Please can you help me identify this bear?


The bear is approximately two feet tall and weighs four pounds, with golden brown tufty fur. He is in fairly good condition with a little wear around his nose and paws. I was given him as a child in 1972 and he was second hand then, but I don't know from where my father bought him.
He has no label or manufacturer's mark anywhere that I can find. His head, arms and legs are articulated. His eyes are red glass with a black centre, and his nose is stitched (embroidered) with yarn.
I think that his head may be stuffed with sawdust, due to a small leak he once had around his nose, which my mum had professionally repaired. I don't know what his body is stuffed with, but he doesn't crackle when you squeeze him.
His hand paws and feet paws are patches of beige velvet with claws stitched on each patch. His feet are notably foot-shaped.
He has a seam up the middle of his tummy and a seam either side of his nose. His tummy is quite rounded. He has a seam up the centre of his back.
He has a longish snout and his eyes are quite close together. His ears are round and made of the same furry fabric on both the inside and outside pieces of his ears.
He has no clothes or accessories.
I have looked at many images of bears on the internet to find a similar bear but have not managed to find a match, yet my bear does seem to be beautifully made.
I would especially like to have some idea of how old he is and would also be very interested to know where he was manufactured. He has been an old friend for many years. I think he is very wise, from his expression.