Please Help I.D. Me, I need TLC
by Dean
(Brockton, MA, USA)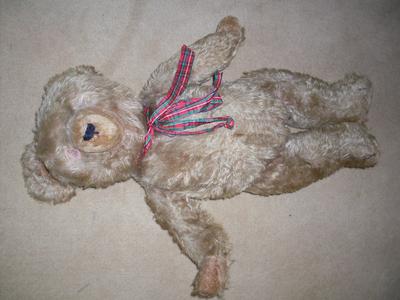 Possible Hermann bear on his back
Hello,


About 3 months ago my neighbor who was just turning 87 yrs. old had passed on. His apartment was cleaned out with a lot of
stuff thrown in a pile. I found this bear pinned under some boards and other rubble, but managed to lift up the debris and pull him out. Some parts of his body had gotten smooshed down from the debris that was sitting on top of him. The man that had passed was from Athens, Greece. He came to the U.S. about 40 years ago. He had served in the Greek Air Force and drove bus for the American Embassy in Greece in the '40s. That is the only history I know about this bear.
The bear measures approximately 22" tall not counting his ears. He is a fully jointed golden mohair filled with wood wool (excelsior). All parts of the body are hard and crunchy when pressed against. The bear's right ear has almost completely come detached, so I was able to look inside it and see that it still has bright excelsior (fine wood splinters or wood wool) in the top part of the ear. The ears are round and sit more towards the side of the head. The muzzle has a hand stitched nose with a line coming down, but no mouth line. Both muzzle and paws are a shaved material which also have a silky mohair feel to them. The feet and arms each have 3 stitched claws. The front main body of the bear has a stitch line running down the center. There are no eyes intact, but there is a thick short string coming out of the left eye socket. The eye sockets have some hard dried glue inside. I think someone tried to glue some new eyes in place, but was not very successful. The inside jointed collars feel like more of a softer material. They may be made of wood, but no sure. I felt for a growler, but could not find one. The back is smooshed in, so I'm not sure
if the bear had a hump or not. I'm also not sure if the red ribbon around the bears neck is original or not. I tested a tiny bit of the mohair that was loose by burning it. It smelled like hair and turned into powder ash. My online research told me this was a way to test for true mohair, so I thought I would try it. I could not find any identifying tags or buttons on the bear.
I thought this could have been a Steiff at first, but read that Steiff bears never had 3 claws. I'm not sure if this is correct or not. I've done a lot of comparisons to other bears online, but could not find anything identical especially with the shaved muzzle and paws. I think the bear looks more like a an old Steiff than any other maker.
The bear needs some TLC. I'm looking to get it restored closest to its original conditon as possible. Not knowing the maker makes it hard to correctly restore. I would greatly appreciate any insight or advice on this bear.
Sincerely,
Dean
Reply
Hi
It is hard to say for sure as the manage to the bear and also possible past repair may have altered some of his characteristics.
However he doesn't look like a steiff to me. His limbs are too short and the nose area is the wrong shape and would not have had that very short plush on it.
After looking through my books I think this bear looks more like a Hermann bear. However from what period I.m not sure. Possible from around the 1930's / 1940's as I have a picture in one of the books that looks similar.
If you do have him restored by a professional teddy bear repairer they will do their best to match the materials but may not be able to get back his original look. Although if you look at Hermann bears from that period I think they may be able to use that as a guide.
best wishes Kate