Please Help Identify My Grandma's Estate Bear
by John
(Illinois)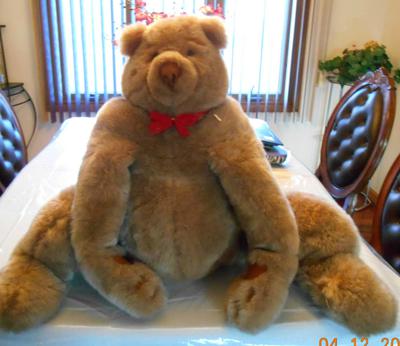 Large Teddy Bear
Grandma & Grandpa's Estate was valued over 20 million dollars, with 95% of it going to Charity. Please help us identify and place a valuation on Grandma's Teddy Bear.


Grandma passed away about 7 years ago, & grandpa this past year. They were very wealthy people and both were avid collectors. Grandpa collected Cars (over 40 in the Barn from 1920's thru 1970's with only 800 - 60,000 miles), and had several hundred small Train Cars... Grandma collected primarily Dolls & Clocks, with many of her dolls valued in the thousands... They enjoyed collecting and (although they were in their upper 80's) commonly visited auctions and estates, knowing exactly what they were looking at, what they were buying, & buying only the cream of the crop...
Now, about her bear.. Unfortunately, I can not find any identification tags on it. The bear is of obvious top quality, having extra soft golden brown fur, I believe glass eyes, soft leather sewn nose, paw and finger / toe pads, along with a buttocks pad... This bear is very large, in the sitting position, measuring 24" high from buttocks to top of head, and 15" across its back, side to side. This bear has a 40" girth (all the way around) just under its arms. The arms and legs are 18" long. The Nose is sewn wrinkled piece of soft light brown leather, which is also sewn on patches for the hands and each individual finger, as well as the feet and each individual toe. This bear has a bright red velvet / satin double bow neck tie, with a gold colored ribbon clasping the center. The fur in both Ears, Eyebrows, and around / below both eyes appears to be shaded with a touch of orange, lightening and highlighting those locations.
The only marking found is a small white tag held around the neck on a gold thread with the hand written number 291 .
Any / All assistance would be appreciated. Respectfully Submitted : John 630-768-3204