Please help identify this small tradition style old teddy bear
by Pauline Porter
(London U.K.)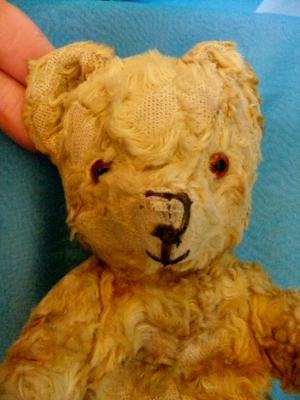 face of old teddy bear
I bought this bear at the Portobello Road antiques market in London earlier this year but was only able to find out that he had come from a house clearance following the death of an elderly resident. He appears as a traditional type bear, is miniature in size and appears aged.
The bear is 8"/20 cm tall and is fully jointed at the neck, arms and legs. The rotating joints feel very hard and are most likely made from wood. I believe the teddy is straw stuffed as I can hear a crunchy sound when I squeeze his arms. The head is hard but again I can hear crunchiness when I squeeze it and hold it close to my ear.
I can only feel a small amount of stuffing at the bottom of the torso but would guess this was also straw as there are no open seams and the stuffing has disappeared. The missing stuffing has left the torso hollow and I cannot tell if there is a hump on Teddies back or not. Teddies torso is equal in size to his arms and legs and he has longish and well defined feet. He has three stitched claws to each of his leg and arm pads.
The torso is stitched vertically through the centre at the back and front in the same textured pale beige fabric that has been used for his paw pads. I can see this because his fur has thinned somewhat over his entire body. The remaining fur feels like mohair but could just as easily be silk plush and is a pale golden yellow in colour.
Teddy has small brown glass eyes with black pupils and a V stitched face and head. His ears are sewn in a semi-circle across the upper V seams on his head and are very round in shape. He has a well-defined muzzle with a vertically stitched nose. Although most of the stitching is missing, the outline looks like the silhouette of a teddy head with ears over an anchor shaped mouth. The colour of the stitched nose looks dark brown in colour but the thread may well have faded from black over the years.
He is a very sweet and traditional looking teddy bear in a very nice miniature size. I had thought when I bought him that he was a Pedigree bear but he has no label and I have not been able to confirm his origin.