Please help identify this teddy bear
by Bob
(KCMO, US)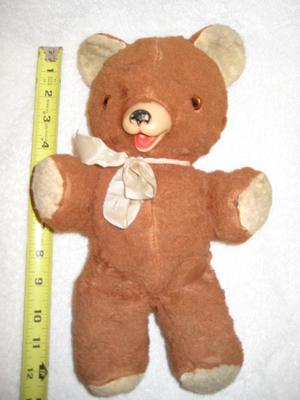 Front view of my teddy bear
The bear was purchased in 1956, so it's been in the family for 57 years.


It has a short plastic muzzle. Unlike most teddy bears I've seen, this bear's mouth is open in a warm, friendly smile.
The nose is plastic -- part of the flesh-colored snout along with the open, red, smiling mouth
The eye are glass, with brown irises and black pupils.
This is a soft bear, obviously stuffed, but the stitching remains intact even after 57 years, so the type of stuffing remains a mystery. When you squeeze the bear, it feels firmer than modern stuffed bears, but still yields in a smooth steady motion; much like pressing your fingers into your stomach. The are no lumps or texture that can be felt inside the bear.
The bear is a little over twelve inches tall when standing. Both the legs and arms move, so the bear sits comfortable on the shelf.
The bear has a faded ribbon tied in a bow around its next; and the brown glass eyes and plastic, smiling snout mentioned earlier. Otherwise, it is all soft brown fur, with white oval insets in its ears, paws, and feet. The fur has a very short, smooth knap.
The bear was purchased new in Kansas City, Missouri in 1956 for a newborn child, lived on a shelf for a few years, and has been kept in family storage since. I'd appreciate any information anyone has about the bear's manufacture and materials. Thanks!
Comment
Hi
I can't find an exact bear but i have found some similar ones on the net from the American company Knickerbocker from the 1950's. There is also a similar German Gund bear with an open mouth.
I you do a internet search for knickerbocker teddy bears you should find some similar looking ones.