Please help me find my family
by Pamela
(Texas )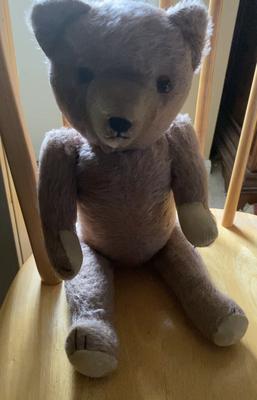 Hi I'm Heinz Schmidt patiently waiting
My mother traveled the world always finding something vintage or with an interesting unknown background. I just ran across this in last couple of years.


Mr Heinz Schmidt is a distinguished gentleman putting on a brave face not faltering in his long journey searching for his people.
Heinz has dark brown course fur, canvas material on his palms also the bottom of his feet. His arms, legs, and head are movable. He has 3 claws on his feet and hands. The seam is in middle of his body front and back. His body is shaped like a football. His eyes are reddish brown plastic. His cute nose and mouth are stitched on with black yarn. His legs contain hard material like his head, body, and arms. His ears are softer fur and do not have holes from possible metal button. We're curious to find out his ancestry. I have found no identifying marks.
Mr. Schmidt and myself appreciate your help and kindness.