Please Help Me Identify My Old Teddy Bear
by Janice
(Glendale, AZ, USA)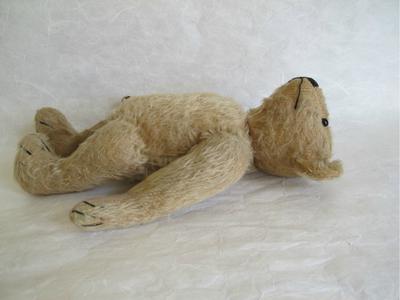 Old bear lying down
I just purchased the bear today at an estate sale. They told me he is a Steiff but I don't think he is. He has some unique characteristics such as cardboard inserts in his feet.


He has a longish muzzle but does not have a dish in his face. If almost seems to slope right down from the top of his triangular head to his nose.
His nose may or may not be original stitching. It is stitched vertically with 2 center stiches that come down and his mouth stitching runs through the two stitches that come down. His mouth is quite crooked which leads me to believe maybe the owner restitched it.
I believe the eyes are antique shoe or boot button with round loops on the backside. It appears that they may have resewn one of the eyes up higher on the head than originally sewn. There seems to be an indention lower than where the eye now sits. The eyes are black.
I believe the bear is stuffed with a combination of excelsior (crunchy) and wood wool (soft and squishy)
The bear is 12" tall from the top of his head to the bottom of his feet.
I feel the bears most distinguishing features are the shape of his head (his sideview) and his foot pads and stitched paw claws (though the stitching may not be original to the bear). The stitching on his hand and foot paws include 5 stitches on each paw almost converging in the center.
What do you know about the bear i.e. what is the bears back story? Please tell us as much as possible.
I know nothing about the bear. I purchased him at an estate sale today and the home was filled with items from the early 1900's. The lady running the sale told me it is a Steiff bear but I believe they think all antique bears are Steiff bears!
Reply
Hi
Well I have gone through my books and I can't place him. I suspect that his head may have lots of work as his profile doesn't match anything else I have seen. The sloping nose like that does not really fit with bears from the early period. I would expect a much more defined nose.
The button eyes, stuffing , long arms etc do correspond with early bears but unfortunately without labels or provenience it is very difficult to identify especially if repair work has been carried out also. Sorry.
he is a lovely bear though and I would say is certainly a very old bear. Kate