Please Identify my white/grey bear and age.
by Mrs Poole
(Doncaster, England )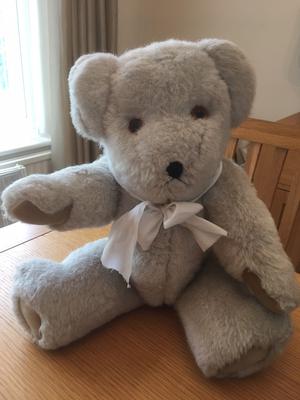 white/grey bear
I found My lovely Grey/ White bear in the garage, of the house i bought from an elderly person, 3 years ago.
As soon as i picked him up, i heard him growl. This only happens when he is tilted and the sound comes from his mid to lower back.
I never heard that in a bear before and thought he was too good to throw away.
He stands 20 inches tall.
His paws are of a gold velour.
His nose is stitched or woven in horizontally.
His fur is quite a course texture, not sure if mohair. although it makes my skin itch in the same way when wearing a mohair jumper.
His head is quite broad and has a filling like straw with a crackly feel, compared to his body that has a softer filling, but feels firm to touch.
Eyes are of orange/amber with large dark pupils not glass though.
His interior joints or sockets for his arm's and leg's are made of a hard circular material, but doesn't feel like plastic.
He has no tag although you can see the thread from the tag showing on the left side of his neck. You can just see this on the picture of the back of the bear.
This Bears ears are quite short but very chunky.
Mr Bear Stands 20 inches tall from his head to feet, wearing a white ribbon, although i'm not sure if its original to him.
He has stitched seems down the centre of his belly, frontal centre of his legs, under his arms, 2 seams to his back, one central and one to the left, probably surrounding the noise box. There's a 'Y' shaped seem to the back and front of his head.

Please could you identify who the maker or manufacturer of this bear may be and from what year?
I have 5 grandchildren who really like to cuddle him and listen to him growl. Be nice to inform them of his background or authenticy.
kind Regards.
Join in and write your own page! It's easy to do. How? Simply click here to return to I.D Your Bear.
If you enjoyed this page, please consider sharing
 it with your friends: