Polar Bear Plush (approx 2001)
by Eve
(Canada)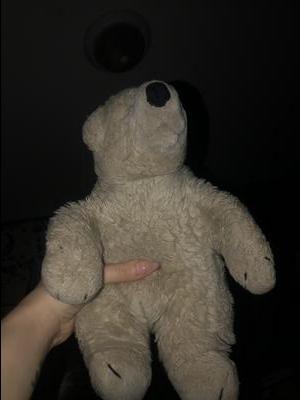 Hello! this is a bear i got as a child (there are photos of me as an infant with him in perfect condition in 2001, leading me to believe he was bought then as a gift for me since that is my birth year.) i have slept with him every night, and although i'm 20 I still do. He's beginning to fall apart, so I wanted to get some identification on him to possibly buy another from EBay.
His tag has worn out, it is illegible. He has plastic eyes with brown around the pupil, and a nose made out of the same material as him (it is not plastic). thank you for any help you can provide.
Join in and write your own page! It's easy to do. How? Simply click here to return to I.D Your Bear.
If you enjoyed this page, please consider sharing
 it with your friends: