Poor Old Bear has seen better days
by James Chestnut
(New Braunfels, TX, USA)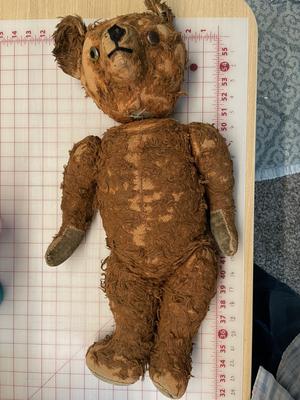 Prone
We have an old teddy bear we've been hauling around for years. It's always been in a box and now we've decided to downsize and declutter so we'd like to know more about him/her.


It's 23" Tall and 11" wide with 9" arms and 10.5" legs. It's fur is brown and curly (but it looks like it has a very bad case of mange) and has a black yarn nose. Hands and feet have and a kind of felt material as paws. The eyes seem to be painted metal buttons.
Its joints are connected with a metal wire/rod and there are hard discs on both sides of each joint with various ranges of motion, the head being the most limited, maybe only 35% to 40% range of motion. One arm can do a complete 360.
The head is firm with a woody type material visible at a split seem and floppy "cupped" ears, although one is hanging haphazardly. The body is a bit softer and seems to be tightly packed wool or some other type of fabric material.